Introducing 9 Interest Free Payments to our Easy Pay Plan
WOW! Not in addition to our 3 and 6 interest free payment plans, we have now introduced our 9 interest free instalment payment plan when you spend over £2000! Give us a call today if you have any further questions...
How UK Loft Boarding Ltd are focusing on the Environment
As a company, UK Loft Boarding Ltd has made great efforts to look into every aspect of the business to evaluate where we are able to reduce our carbon emissions
Reducing Plastic Use
We have started manufacturing our very own bespoke, tested and proven loft leg that is made of 100% fully recyclable anodised metal. We have removed all plastic counterpart loft floor systems that we previously used to fit.
Like any industry, it evolves. We're at the forefront paving the way with new innovative ideas, which is how we came up with the idea of our fully adjustable, metal loft leg called LOFT-E®.
LOFT-E® isn't only fully recyclable, it's the strongest loft floor system on the market. Don't just take our word for it! Lancaster University's engineering department ran tests on all aspects of our product and the results surpassed all expectations regarding safety and load resistances.
---
New Fleet of Company Vans
We are in the process of upgrading all of our company vans to brand new vehicles that have lower emissions than our previous vans. In the future we would prefer to upgrade to fully electric vans but as of yet, they don't quote have the mileage capabilities for us.
We also plan to start regularly swapping vans after a certain time to ensure we have the latest up-to-date vans
---
UKLB are going paperless
Like everything, internal systems can be improved where possible. This is why our IT department are adding the final touches to our new in-house built surveyor app. This takes away all of the 1000's of survey sheets printed a year and replaces it with a tablet so that all of our data can be stored electronically, immediately from the survey.
---
Head Office & Northwest Warehouse Improvements
We have made improvements to our premises in numerous ways to increase energy efficiency. In each room we have installed light sensors so that no electricity is wasted when not in use. Our warehouse is fully insulated to keep as much heat in as possible, as well as being insulated, our offices have double glazed windows that also have the same effect.
LOFT-E® the latest brand new product to build adjustable raised loft floors above the insulation.
All new build houses today have lofts that must conform to building regulations and government-recommended loft insulation heights.

The LOFT-E™ adjustable loft floor support has been designed to solve two problems when planning on boarding your loft for storage

Firstly boarding directly on top of your loft insulation is wrong. Squashing or having to remove the existing loft insulation should never be done.
Building above the insulation is now possible by using a product that is designed to last a lifetime. The LOFT-E™ adjustable raised loft floor leg can not only raise the loft floor platform above the insulation level, but it can also account for variations in joist height.

Secondly, a static loft leg works fine if your loft joists are perfectly level with each other, but if they are not, you then have to start using packing pieces to get a level, which is not the best way. READ MORE.....
What is the correct way to board a loft in any age house?
What is the correct way to board your loft in a new build house?
or even an old house with weak ceilings?
Did you know that Northern England houses can vary in build type compared to the Midlands or Southern England? So "one size fits all", does not work with loft storage.
UK Loft Boarding are the only company in the UK to offer 3 different raised loft floor systems for any type of loft to make any loft space in to a safe secure and useable storage space. In fact, UKLB where the pioneers of raised loft boarding to the correct height.
They developed and acquired Innovative award-winning products to help you get loft storage with easy access ladder and energy saving lighting without compromising your NHBC guarantee.
No squashing or removing of insulation required. Retain, if not gain better energy efficiency without breaking the rules.
New build and old build raised loft storage floors like no others. Correctly raised above the insulation with an air gap for continued air circulation as required by building regulations part L
Quality professional factory approved installers 10-year guarantee.
Free no obligation surveys at your home.
Interest free finance available but not compulsory and its arranged by them directly with no deposit, no credit checks required.
MORE INFO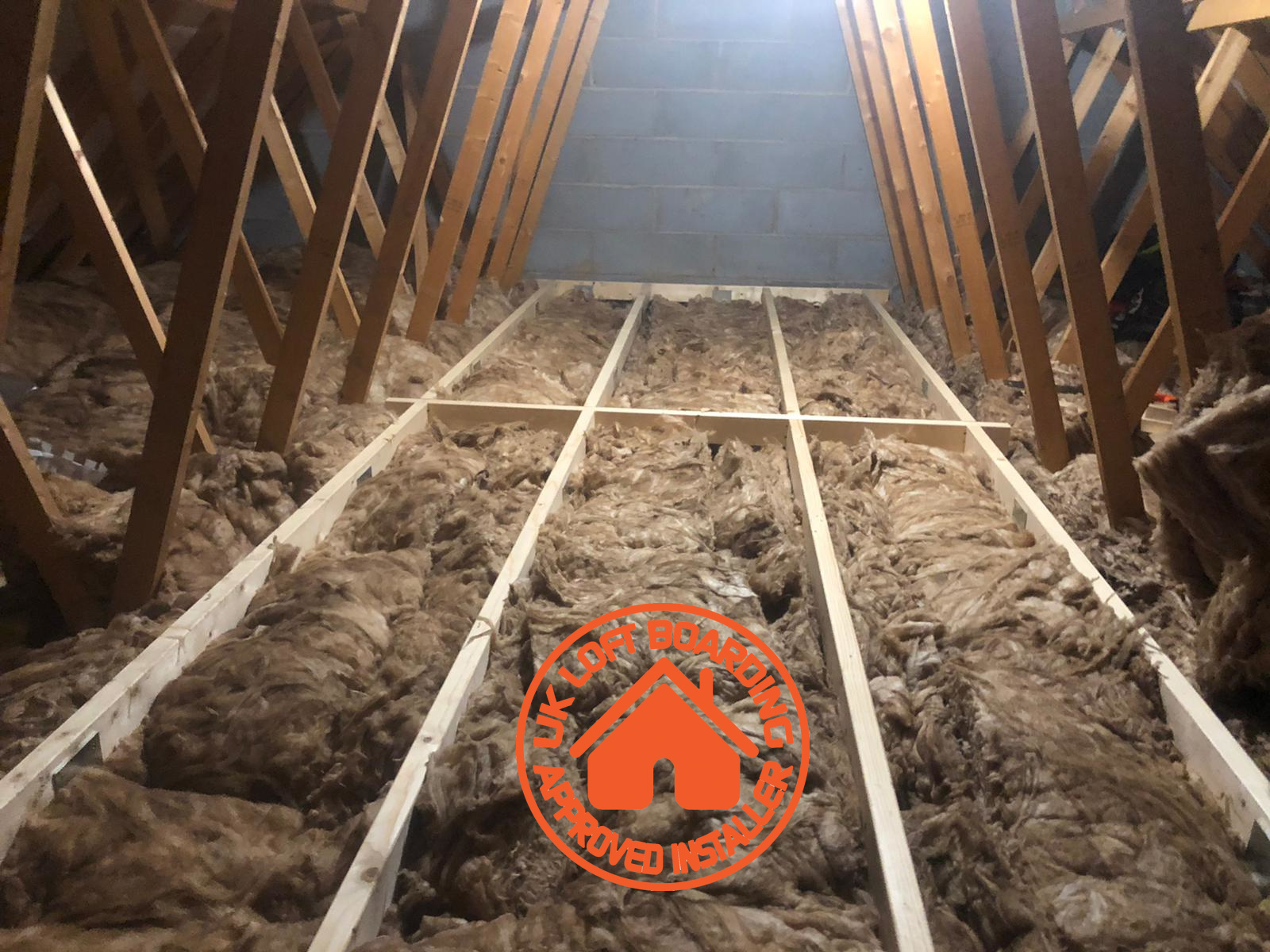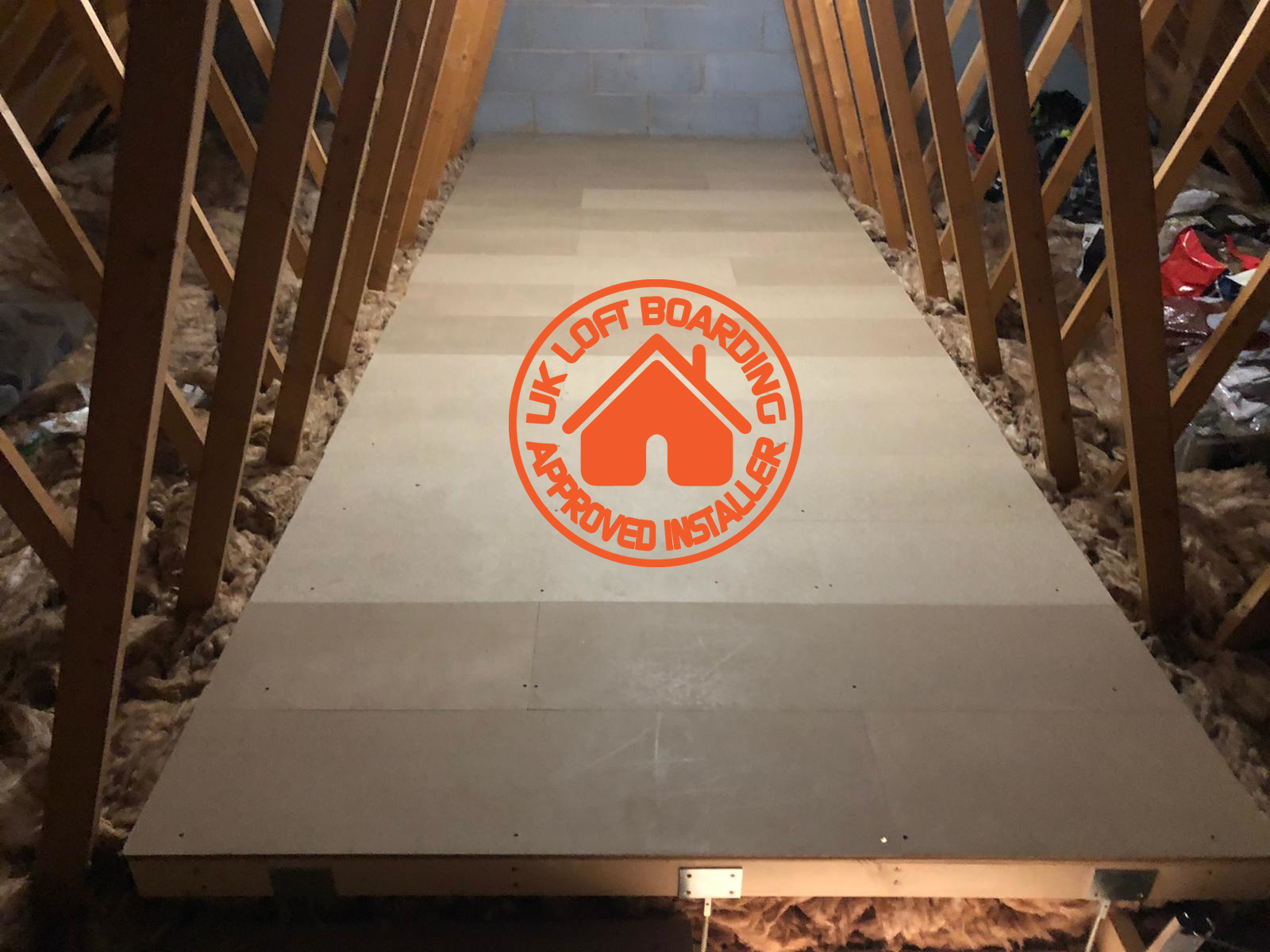 Have you been thinking about boarding your loft space for storage?
Have you been thinking about boarding your loft space for storage?
Did you know there are two ways of doing this? one is the correct way, the other is not.
So how do you know which is the right way?
Its pretty easy to tell when the job is complete but how can you tell that the company you let do the work will do it the right way?
The correct way will be raised above the ceiling level and insulation by 270mm or more.
The wrong way will be boarded on to the joists or not sufficiently high enough, which will mean the loft insulation will have to be remove to get boarding down, or the insulation will be crushed. This is so wrong.. If its not done the right way your insulation will suffocate and the air flow will be very restricted (required by building regulations part L). The short and long term problems will be a dangerous black mould growth, damp ceiling patches and moisture build up on roof timbers. Once this happens its too late and its a very expensive problem to put right.
So how do you know which method they will use?
Firstly get a survey done, they should be free and by law, there is no obligation to buy anything. If the company want to quote over the phone or by email, I would avoid !!!, how can any professional company quote without seeing the job, plus for legal reasons, a quote must be in writing, not an estimate (that's a guestimate) price can rise by the end of the job, a quote can't its fixed price.

So to avoid getting the cheap version installed by mistake, ask how high the boarding will be raised, they may say it will be on battens, this means nothing as they are no more than 50-70mm high, not 270mm+ which it should be. They should be quoting for the compliant 270mm methods of raised loft boarding called LOFT-E or LBNW. These methods are perfect for brand new houses as well as older properties of any age.
The sub-frame (the frame supporting the loft boards) should be at minimum 270mm or above. The supporting sub-frame can be metal or timber construction and give great strength and support to your loft floor. Either method will be very strong, safe and able to support loads of storage weight as well as yourself.
Cheap versions built on to the ceiling, even with battens will add loads of weight directly on to your existing joists, this is not good as it will cause your joists to bow over time as well as causing mould growth.
Also look out to see if they are approved or registered with a government body like council run safe trader scheme or factory approved. Cheap cowboy versions won't be!
Cheap loft boarding advertised about will more than likely be the wrong one. Do it once, do it right. Get a free no obligation survey by calling 0800 8799967 or on our secure enquiry page https://www.loft-boarding.com/contact
Visit our website for more info https://www.loft-boarding.com